Planning (58)
Children categories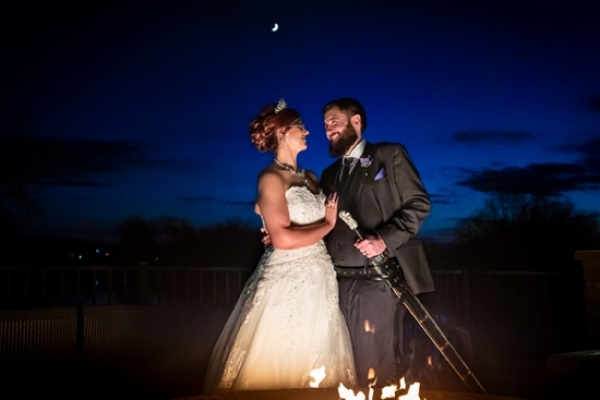 Our Story - Kristen & Stewart Millikan
I met Stu like so many other people meet, through a shared group of friends. The only difference in our case was that our shared group of friends was spread across the country and I had never met any of them face to face. In a world of online dating and apps to meet the right 
partner, we took it a step further and met in a video game.
Like many people do, we spent time as friends within the group, then moved on to being friends outside the group. In the online game we played together, two people could marry their avatars (the characters people play as) and after a while we decided to do just that. 
And so, with a small, virtual marriage, we started on our path to the real thing.
Over the next few years I would make the trip to Chicago to spend a week with him, and he would fly to Albany to do the same. After a year and a half, he decided to make the move to Albany.
In keeping with the rest of our lives, our wedding was a celebration of everything nerdy. Our tables were named after houses in Game of Thrones. We had swords, and cloaks, and crowns. The words we spoke to each other when we were married were pulled straight out of fantasy. It was a day that was uniquely us and we know our family and friends loved it every bit as much as we did!
Wedding date  
November 11, 2018  
Location
Glen Sanders Mansion
Photographer  
Matt McClosky Photography 
Event Decorator 
Glen Sanders Mansion 
Wedding gown & bridesmaids' dresses
Jocelynn's Bridal  
Tuxedo & groomsmens' clothing
Men's Warehouse
Wedding planner 
Maria DeMartino
Hair 
Platinum Salon - Alyssa Lauder
Makeup 
Platinum Salon - Becca Shaeffer 
Flowers  
Felthousen's Florist and Greenhouse 
Caterer / Cake 
Mazzone Hospitality   
DJ 
Bobby Dick & Susie Q
First dance  
'Answers' by  Nobuo Uematsu
Honeymoon destination 
New Zealand 
Hespera Designs providing the gemfire ring cut from the 
same motherstone that Lena Heady wore in Game of Thrones.
Eden Luxe Bridal Swarovski Crystal Crown, necklace and earrings
Costurero Real Ceremony Cloak
Special touches...
The wedding party received engraved Alehorns with their names, the date and their "title" given to them by the bride & groom. The Groom wore a replica of the famed valryian steel sword "Longclaw" from Game of Thrones.
Advice to pass along...
Your wedding day goes by as fast as everyone says it does!  Remember to take some time 
to sit down and enjoy the meal, cake and drinks for yourself.