Wedding Bands
The N. Fox Bridal Boutique offers a unique selection of wedding bands from Sylvie, Fana, and Benchmark, as well as their exclusive private label Fox Bridal.
As the only Benchmark Platinum Retailer in the Capital Region, N. Fox offers the largest selection of traditional and alternative metal wedding bands and the EXCLUSIVE FREE casual-wear ring offer. The demand for alternative metal rings and men's wedding bands geared for everyday wear has culminated in a trend for the need for a third wedding band. The process is simple… In a truly remarkable offer, N. Fox Jewelers will give you a FREE casual-wear ring with the purchase of a band from the Benchmark "Carved" or "Amara Stone" collections.

Engagement Rings
By partnering with diamond suppliers throughout the world, N. Fox Jewelers can match you with that perfect proposal-worthy engagement ring. "Any of our engagement ring settings can be modified to accept different diamond shapes," says N. Fox Bridal Boutique Manager Debbie Purstell.
Customization is where N. Fox shines. In addition to having a full-time jewelry designer in Grant Dorangrichia on staff, N. Fox offers an "As You Wish Journey." Your vision is brought to life… From style renderings, wax modeling, casting, polishing, stone setting, and finishing, the unique journey of your custom-designed engagement ring is chronicled from start to finish and viewable through a QR Code.
"We love adding personalization to rings," said Debbie, as she referenced a ring where the brides' birthstone was placed in a trending peek-a-boo setting.
Debbie recently celebrated 25 years with N. Fox and has been the driving force behind making N. Fox Jewelers a bridal and engagement ring destination in upstate New York. By partnering with area businesses, N. Fox Jewelers celebrates couples by presenting them with a custom "Bridal Box" which includes a number of exclusive gifts and a two-night stay to experience the tranquil luxury at Lake Placid's Mirror Lake Inn Resort and Spa*.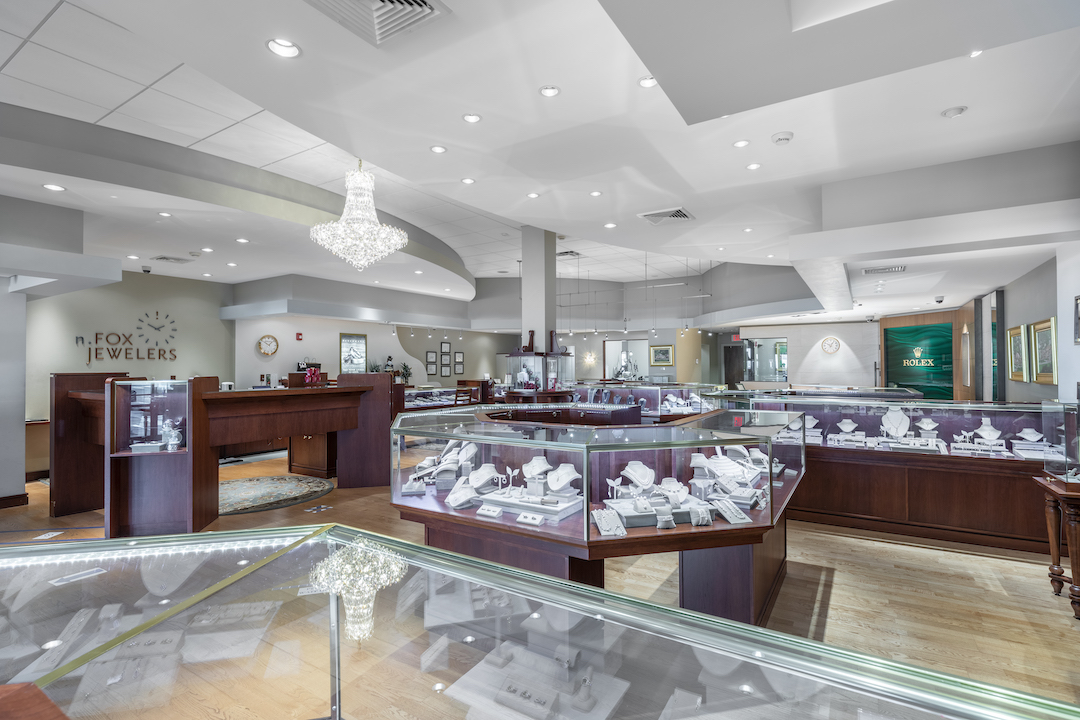 Fashion & Timepiece
Fashion jewelry and timepieces are always called upon to complete your wedding attire. N. Fox offers a large selection of boutique jewelry brands including Facet Barcelona, Olivia B, Frederic Duclos, and Madison L. As always, Pearls often make the perfect entrance at a wedding! Chrissy, N. Fox's Retail Fashion Jewelry Buyer said N. Fox Jewelers' carries several lines, including Assael, North America's premier purveyor of luxury cultured pearls. Often, you will see an N. Fox associate restringing pearls on site. "Pearls never go out of style," said Chrissy.
For men, Chrissy simply suggests cuff links and a timepiece.
N. Fox presently offers quite a few watch brands including Rolex.
Custom Design & Repair
In addition to carrying today's trending luxury designer jewelry brands, there is an experienced jeweler on-site to provide custom jewelry design and repair. Grant Dorangrichia has years of experience repurposing previously loved jewelry items into new treasures.
Events
For clientele interested in loose diamonds, engagement and bridal rings, and anniversary bands, N. Fox Jewelers has two major sales events each year.
The "With This Ring" and "Ultimate Ring" events boast significant savings opportunities as well as expanded event-only selections. Events are open to the public but also offer viewings by appointment.
For more information, find N. Fox Jewelers at 404 Broadway, Saratoga Springs. Follow them online on Facebook and Instagram, or visit www.nfoxjewelers.com 
*Offer valid on select engagement ring purchases when available.