Crafting your own special drink does not have to be difficult at all, trust me…it can be a lot of fun! Here are some tips to help you get started.
Start with a recipe for the type of cocktail you both enjoy. Do you like a martini style drink, or favor a taller libation such as gin and tonic? Maybe a wine-based cocktail is more to your liking.  Keep in mind you will likely need many of these drinks, so look for a recipe that can be easily made in batches.
Now comes the fun part – customizing the recipe with flavors you prefer. This is easy and so much fun! Just change one or more of the recipe components to produce a flavor profile you like. As you do this, consider flavors appropriate for the season during which your wedding will occur. For example, an apple flavored cocktail will work well for a fall or winter wedding, but a citrus based drink is more suited for a spring or summer event.
Next, name your drink. Think wedding and romance, as well as activities you enjoy together. You can draw inspiration from the drink ingredients, or your wedding venue.  Ask your friends and family for ideas as well. I know from experience crafting a signature cocktail can be as much fun for others as it is for the wedding couple. I had a great time creating the Cranberry Cape Kiss for my friends Tony and Michael, inspired by their favorite Kir Royale cocktail and Cape Cod wedding location.
I hope these tips inspire you to create your own signature wedding cocktail. Here are two recipes to get your creative juices flowing.
Best wishes and congratulations!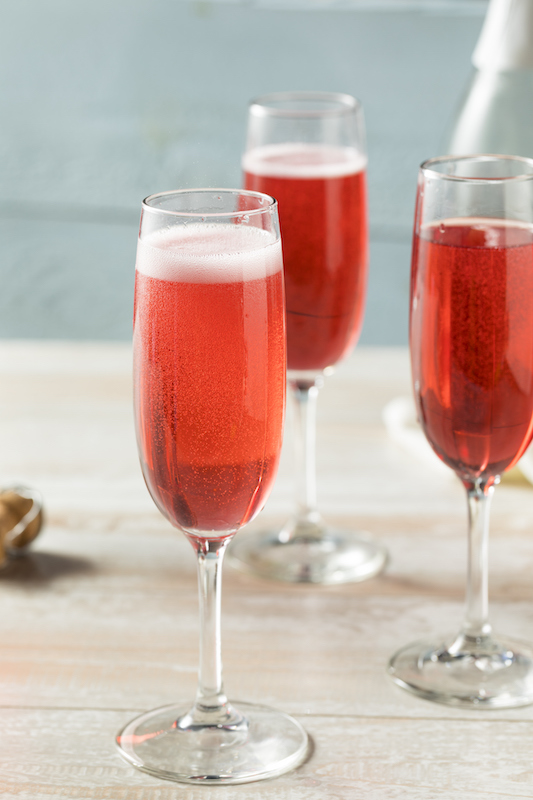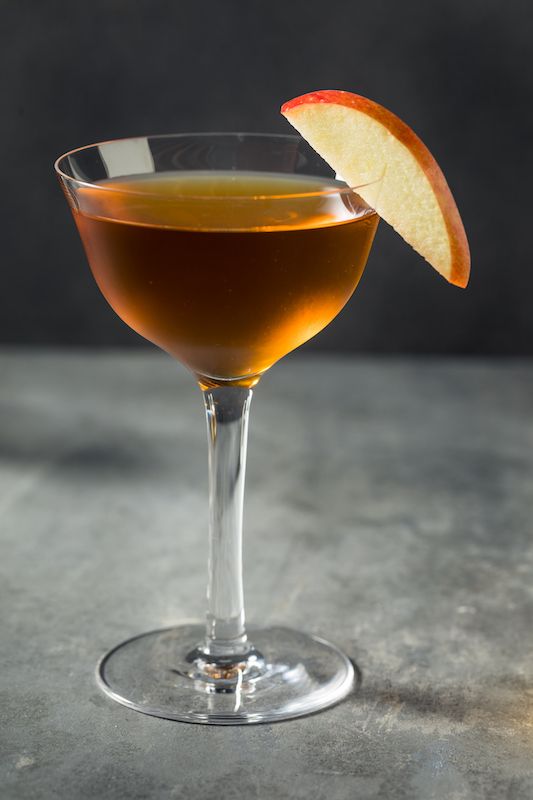 The "Cranberry Cape Kiss" 
This drink is soooo good-looking it does not need to be garnished!
For each drink: 
• 1-ounce cranberry liqueur. I used Heimat Hand Crafted Cranberry Liqueur
• ½ ounce fresh lime juice
• Chilled prosecco. I prefer Tussock Jumper Prosecco for this cocktail
Mix the first 3 ingredients in batches for the number of drinks you need, and chill. Pour 1.5 ounces into a champagne flute and fill with prosecco.
The "Caramel Appley Ever After"
For each drink: 
• 1.5 ounces of Salted Caramel Vodka, I use Stolichnaya brand
• 1 ounce of apple liqueur, find Schnauer brand works best
• 0.5 ounces fresh lemon juice
• Thin apple slices sprinkled with additional lemon juice for garnishing
Mix the ingredients in batches for the number of drinks you need and chill. To serve, pour each drink into a 3-ounce coupe glass and garnish with a thin apple slice.